Meriva-SF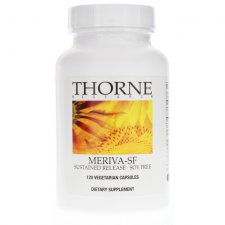 by Thorne Research
Curcumin bound to sunflower phospholipids so it's soy free!
Meriva-SF the most clinically studied curcumin on the market
A Thorne Research exclusive

Curcumin bound to sunflower phospholipids - especially for sensitive patients

Phytosome technology ensures more efficient absorption

500 mg of curcumin-sunflower phospholipid complex per capsule
Product Information
Meriva 500-SF is a unique, patented curcumin product. People throughout Asia have benefited from the healthful effects of curcumin for centuries. Curcumin is the orange pigment in turmeric (the primary ingredient in curry), and is an antioxidant that offers numerous health benefits, including supporting joint health and hepatic, GI, and cardiovascular function, by helping to maintain the body's normal inflammatory response through optimization of cytokine production.
Whether taken as a supplement or from food, curcumin is generally poorly absorbed into the bloodstream. In conjunction with Indena S.p.A., the worldwide experts in botanical extract technology, Thorne Research has uncovered the key to curcumin absorption - phytosome technology. Meriva curcumin phytosome is a unique curcumin extract that is significantly better absorbed than other curcumin extracts.
Phytosomes are plant extracts bound to phospholipids (from sunflower oil in the case of Meriva 500-SF), essential components of human cells. Although the body does make phospholipids (such as phosphatidylcholine and phosphatidylserine), phospholipids can also be obtained from food or nutritional supplements. When taken orally, phospholipids are very well absorbed. The scientists at Indena found a way to attach a curcumin extract to phospholipids obtained from sunflower oil for optimal absorption, resulting in Meriva 500-SF. With Meriva 500-SF, the body readily absorbs the phospholipid with the attached curcumin, which results in more curcumin reaching the body?s cells that can benefit from it.

Two capsules contain: Curcumin Phytosome (Curcuma longa extract (root)/ Physphatidylcholine complex from Sunflower) 1g.
Other ingredients: hypromellose (derived from cellulose) capsule, Leucine, CalciumCitrateLaurate, Silicon Dioxide, Microcrystalline Cellulose.
Suggested use: Take 1-2 capsules two times daily or as recommended by your health-care practitioner.
The information and product descriptions appearing on this website are for information purposes only, and are not intended to provide medical advice to individuals. Consult with your physician if you have any health concerns, and before initiating any new diet, exercise, supplement, or other lifestyle changes.
These statements have not been evaluated by the Food and Drug Administration. This product is not intended to diagnose, treat, cure, or prevent any disease.
120 capsules

We're now part of the Fullscript network, the safest and most convenient way to purchase the supplements that I recommend.
Fast shipping right to your door
Works where you do - mobile friendly
Refill reminders via text or email
Safe, secure and HIPAA compliant
Authentic prescription-only supplements
World class support

Click here to create your new, free account. Then search for the product you'd like to purchase after logging in.

Dr. Ronald Hoffman
Addressing Inflammatory Bowel Disease
by Hoffman Center Staff
Arthritis: not for seniors only
by Ronald Hoffman, M.D.
Asthma update
by Ronald Hoffman, M.D., C.N.S
Atherosclerosis
by Leyla Muedin, RD, CDN
Cataracts: inevitable or avoidable?
By Robert Abel, Jr., M.D.
Fatty liver disease
by Leyla Muedin, MS, RD, CDN
Headaches: hunting down the cause of your pain
by Hoffman Center Staff
Hepatitis
by Leyla Muedin, MS, RD, CDN
Skin disorders
by Leyla Muedin, MS, RD, CDN
Update on cancer
by Ronald Hoffman, MD, CNS
Click here for 2014 archived information on curcumin

Click here for 2013 archived information on curcumin

Click here for 2012 archived information on curcumin

Click here for 2011 archived information on curcumin

Click here for 2010 archived information on curcumin

Click here for 2009 archived information on curcumin

Click here for 2008 archived information on curcumin

Click here for more information on Meriva 500-SF
Product information by Thorne Research