L-Glutamine (powder)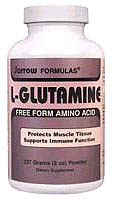 by Jarrow Formulas
Pharmaceutical Grade, Suitable for Vegetarians, FREE FORM AMINO ACID GLUTAMINE is the most abundant amino acid in the body and is involved in many metabolic processes. Skeletal muscles are the primary sites of glutamine concentration. There is an increased demand for glutamine during stress associated with exercise, illness or trauma. Glutamine supplementation supports protein synthesis as well as the rate of glycogen production by serving as a carbon donor.
Glutamine also serves as a fuel source for intestinal muscosal cells and nucleotide synthesis by lymphocytes.

One scoop (2 grams) contains: L-Glutamine 2 g.
Suggested use: Dissolve 1 scoop (2 grams)in fluid, and drink when stomach is empty, or as directed by your qualified health consultant. For athletes, maximal results will be obtained by supplementing 2 grams of glutamine after excercise.
The information and product descriptions appearing on this website are for information purposes only, and are not intended to provide medical advice to individuals. Consult with your physician if you have any health concerns, and before initiating any new diet, exercise, supplement, or other lifestyle changes.
These statements have not been evaluated by the Food and Drug Administration. This product is not intended to diagnose, treat, cure, or prevent any disease.
500 grams (18oz) powder

We're now part of the Fullscript network, the safest and most convenient way to purchase the supplements that I recommend.
Fast shipping right to your door
Works where you do - mobile friendly
Refill reminders via text or email
Safe, secure and HIPAA compliant
Authentic prescription-only supplements
World class support

Click here to create your new, free account. Then search for the product you'd like to purchase after logging in.

Dr. Ronald Hoffman
Click here
product information (227 grams (8 oz) powder) by Jarrow Formulas
Click here
product information (750 grams ( 26.4oz.) powder) by Jarrow Formulas
Click here for more information on Glutamine
Grave's Disease: A Nutritional Approach by Hoffman Center Staff
Click here for more information on L-Glutamine
Addressing Inflammatory Bowel Disease by Hoffman Center Staff
Click here for more information on L-Glutamine
Alcoholism by Leyla Muedin RD, CDN
Click here for more information on L-Glutamine
Attention Deficit/ Hyperactivity Disorder (ADHD) by Leyla Muedin, RD, CDN
Click here for more information on L-Glutamine
Crohn's Disease and Ulcerative Colitis by Ronald Hoffman, M.D., CNS
Click here for more information on L-Glutamine
Inflammatory Bowel Disease Update by Ronald Hoffman, M.D., CNS
Click here for more information on L-Glutamine
Irritable Bowel Syndrome by Hoffman Center Staff
Click here for more information on L-Glutamine
Skin Disorders by Leyla Muedin, RD, CDN
Click here for more information on L-Glutamine
Ulcers by Ronald Hoffman, M.D., CNS
Glutamine May Increase Insulin Secretion in Obese Diabetics
Am J Clin Nutr, 2009; 89(1): 106-13
Oral Glutamine Supplementation May Benefit Preterm Infants
J Matern Fetal Neonatal Med, 2011 April 4; [Epub ahead of print]