Kyolic Reserve Garlic Extract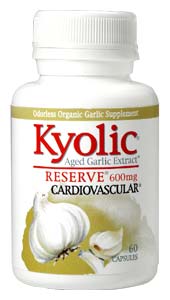 by Wakunaga of America
Choosing an appropriate garlic supplement can be a confusing process. Actually, there are four choices: 1.heat distilled garlic oil in softgels, 2.heat dehydrated garlic seasoning power in capsules/tablets, 3.garlic oil macerates and 4.Kyolic odorless Aged Garlic Extract. All garlic supplements have some nutritional value. However, powders and oils contain little or no water-soluble compounds which may be essential to obtain some of the key benefits of garlic. Garlic powders and oils contain some beneficial oil-soluble sulphur compounds. However, these compounds also have a pungent garlic odor as well as harsh, oxidizing side effects. Even though these products may claim to be deodorized, the garlic odor is just masked by chemical or sugar coatings. When the capsules or tablets dissolve, garlic body odor results. Kyolic odorless Aged Garlic Extract, on the other hand, is truly the only odorless garlic supplement. The exclusive aging process eliminates garlic odor and harsh side effects.
Moreover, Kyolic contains various antioxidant properties and is the only antioxidant garlic supplement available. Kyolic is also standardized with SAC (S-Allyl Cysteine), a beneficial water-soluble sulphur containing compound which is haracteristic of Aged Garlic Extract. The Kyolic Story Kyolic originated from time-tested organic farming techniques free from pesticides, herbicides and chemical fertilizers. Organic cultivation is essential to grow pure and natural garlic bulbs which are well balanced in nutrients. Harvested at full maturity, the garlic cloves are naturally aged to convert harsh and odoriferous compounds such as allicin, into mild, odorless and stable water-soluble sulphur containing compounds which offer the benefits of garlic. Kyolic is quality assured from soil to shelf.
The whole production process of Kyolic is controlled by over 250 stringent quality checks to ensure its safety and efficacy, conforming to international GMP (Good Manufacturing Practice) guidelines. Kyolic, Supported by Science Since the development of Kyolic more than four decades ago, Aged Garlic Extract has attracted the attention of the world's most promising researchers. Over 100 studies on Aged Garlic Extract preparations have been presented at various symposiums, including the First world Congress on Garlic in 1990, Designer Food III Symposium, 1994, and published in various scientific journals. Kyolic is also covered by more than a dozen patents and patents pending worldwide.

One capsule contains: Aged Garlic Extract Powder (bulb) 600 mg.
Other ingredients: gelatin, cellulose, magnesium stearate (vegetable source) and silica.
Free of: preservatives, sugar, sodium, milk, yeast, gluten, artificial colors or flavors.
Suggested use: Take one or more capsule(s) with a meal twice daily.
The information and product descriptions appearing on this website are for information purposes only, and are not intended to provide medical advice to individuals. Consult with your physician if you have any health concerns, and before initiating any new diet, exercise, supplement, or other lifestyle changes.
These statements have not been evaluated by the Food and Drug Administration. This product is not intended to diagnose, treat, cure, or prevent any disease.
600 mg, 120 capsules

We're now part of the Fullscript network, the safest and most convenient way to purchase the supplements that I recommend.
Fast shipping right to your door
Works where you do - mobile friendly
Refill reminders via text or email
Safe, secure and HIPAA compliant
Authentic prescription-only supplements
World class support

Click here to create your new, free account. Then search for the product you'd like to purchase after logging in.

Dr. Ronald Hoffman
Click here
product information by Wakunaga Nutritional Supplements
Click here
Scientific Literature Review of Aged Garlic Extract: Pharmacological Aspects by Wakunaga Nutritional Supplements
Click here
Why Kyolic? A Comparative Look at the Superiority of Aged Garlic Extract over Other Forms of Garlic by Wakunaga Nutritional Supplments
Click here for more information on Aged Garlic Extract
Heart disease: Are modern lifestyles at fault? By Leyla Muedin, RD, CDN
Click here for more information on Garlic
Alternative Approaches to Hypertension by Hoffman Staff
Click here for more information on Garlic
Chelation by Ronald Hoffman
Click here for more information on Garlic
Crohn's Disease and Ulcerative Colitis by Ronald Hoffman, M.D., CNS
Click here for more information on Garlic
High Blood Pressure by Ronald Hoffman, M.D., CNS
Click here for more information on Garlic
Managing Cholesterol: Naturally by The Standard
Click here for more information on Garlic
Managing Lipoprotein Dyslipidemias Through Lifestyle and Nutraceutical Therapies by The Standard
Click here for more information on Garlic
Nutrients That Boost Immunity by Ronald Hoffman, M.D., CNS
Click here for more information on Garlic
SUPPLEMENTS FOR SURGERY by Dr. Ronald L. Hoffman, M.D., CNS
Click here for more information on Kyolic
Atherosclerosis by Leyla Muedin, RD, CDN
Click here for more information on Kyolic
Skin Disorders By Leyla Muedin, RD, CDN
Click here for more information on Kyolic
Update on cancer by Ronald Hoffman, MD, CNS
Click here for 2012 archived information on garlic

Click here for 2011 archived information on garlic

Click here for 2010 archived information on garlic

Click here for 2009 archived information on garlic